Last weekend I had a hot date with my boo. He washed my car, I watched. We ate pepperoni rolls and did some homework. I got all dressed up in date clothes, C wore his signature sweat pants, and we made it to a romantic viewing of The Muppets before a late-night outing to Walmart. Nothing says romance like strolling the aisles of your local Walmart for fresh new wiper blades.
If you know C & Me as a couple, none of these events should surprise you.
We both really enjoyed the movie, and believe it or not, we weren't the only "adults" in the theater. In fact, there was only one child in the entire room ... sitting two seats away from me, kicking the seat in front of him and taking more bathroom breaks than generally acceptable for the duration of one movie. Somehow I don't think he was as appreciative of the sentiment or humor of the movie as the more seasoned Muppet fans in the theater.
The jokes were both extremely silly and cunningly clever. Animal is now in Anger Management and being sponsored by a disgruntled Jack Black, Miss Piggy plays an executive en Vogue in Paris, and Gonzo relinquishes his title as CEO of a very successful used-toilet company, just to name a few of the very fitting new roles for the Muppet gang. Cameo appearances by stars like Whoopi Goldberg, Selena Gomez, Zach Galifianakis, and Ken Jeong supplemented the humor with familiar faces. I love Jason Segel, and he was the perfect "Muppet of a Man" for the role. His goofy grin paired with Amy Adams' delightfully innocent personality made the quintessential couple in Smalltown, USA.
Gary (Jason Segel) and his muppet brother, Walter, are the Muppet's biggest fans, on a mission to save the Muppet theatre from a villainous oil-barren while also battling the struggles of self-identity and heart break. Not the most creative story line, but entertaining nonetheless.
All in all, this was an adorable movie for you and your beau, no matter your age. I recommend you go take your next hot date to the theatre and sing a long to some old Muppet faves.
Ma-nah-ma-nah.
PS - Everytime Walter had a close up, C and I couldn't help but laugh. He looks eerily identical to a real-life human we know. Too funny.


----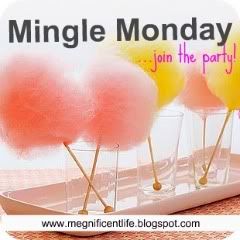 PPS - I wanted to link up over at Life of Meg for my first "Mingle Monday!"
This week's question?
"What's on your Christmas List?"
I feel like I've been answering this question far too often, but tis the season, right?
-New Boots!!
-Michael Kors perfume
-Jillian Michael's Meltdown Yoga DVD
-Work out clothes
-Some more hot dates with loverboy ;)
20 more days 'til Christmas!! I should probably stop thinking about what I want and start shopping for the fam..AHHH